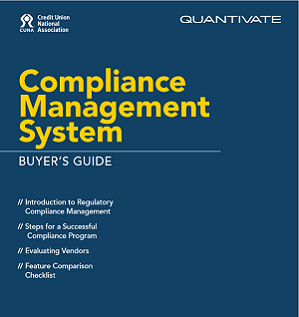 Compliance Management System Buyer's Guide
Credit Union Compliance Made Easy
Learn how you and your credit union could benefit with this free Buyer's Guide.
It seems everyone is talking about compliance management systems these days—but, is it really worth all the buzz?
YES. Compliance management systems are fast becoming the tool to keep organizations out of hot water with examiners. And compliance management systems aren't just a good idea - they're starting to look like a necessity.
Learn more about compliance management systems and begin to determine which one is right for your organization when you claim your free copy of the Compliance Management System Buyer's Guide.
You'll learn
The key problems that compliance management systems solve
The 5 functions of a successful compliance management system
How to evaluate providers
How to compare software solutions with a handy checklist
To receive your copy, simply fill out the form below.